Canvas Stretching
We are adept at stretching all kinds of canvas — whether it be big or small, new or old, painted or printed. Our stretcher bars are custom cut to suit any size canvas, and are available in different depths.
The canvas is traditionally stapled on the side of the frame and finished with either black or white linen tape. Alternatively, we can gallery wrap the canvas around the side of the stretcher bar and staple it on the back. Either method includes wire and hook and is ready to hang.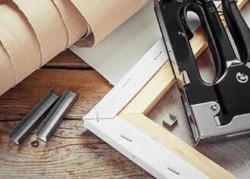 Canvas Framing
While a stretched canvas is ready to hang, you will be amazed how much nicer your artwork appears when framed.
What is very popular now is the float frame. The L-shaped frame surrounds the artwork leaving a gap between the canvas and the frame.This results in the canvas appearing to float within the frame and allows the entire front face of the canvas to be visible. While most float frames are considerably narrow, it really ads a tremendous amount style and refinement to the artwork.
Traditional frames are placed directly on the face of the canvas. Instead of using a paper matboard to surround works on canvas, a linen liner frame is used between the art and the frame. A combination of multiple frame, liners and fillets can be used to create a sophisticated masterpiece.